With the release of the ResMed AirSense 11 AutoSet, you may be wondering if it's a good choice for your CPAP therapy. Whether you're buying a CPAP machine for the first time or thinking about upgrading, we'll run through everything you need to know in our ResMed AirSense 11 review. Click on the section below you'd like to read or keep scrolling for our full review and comparison of the ResMed AirSense 11 vs. 10.
ResMed AirSense 11 New Features and Changes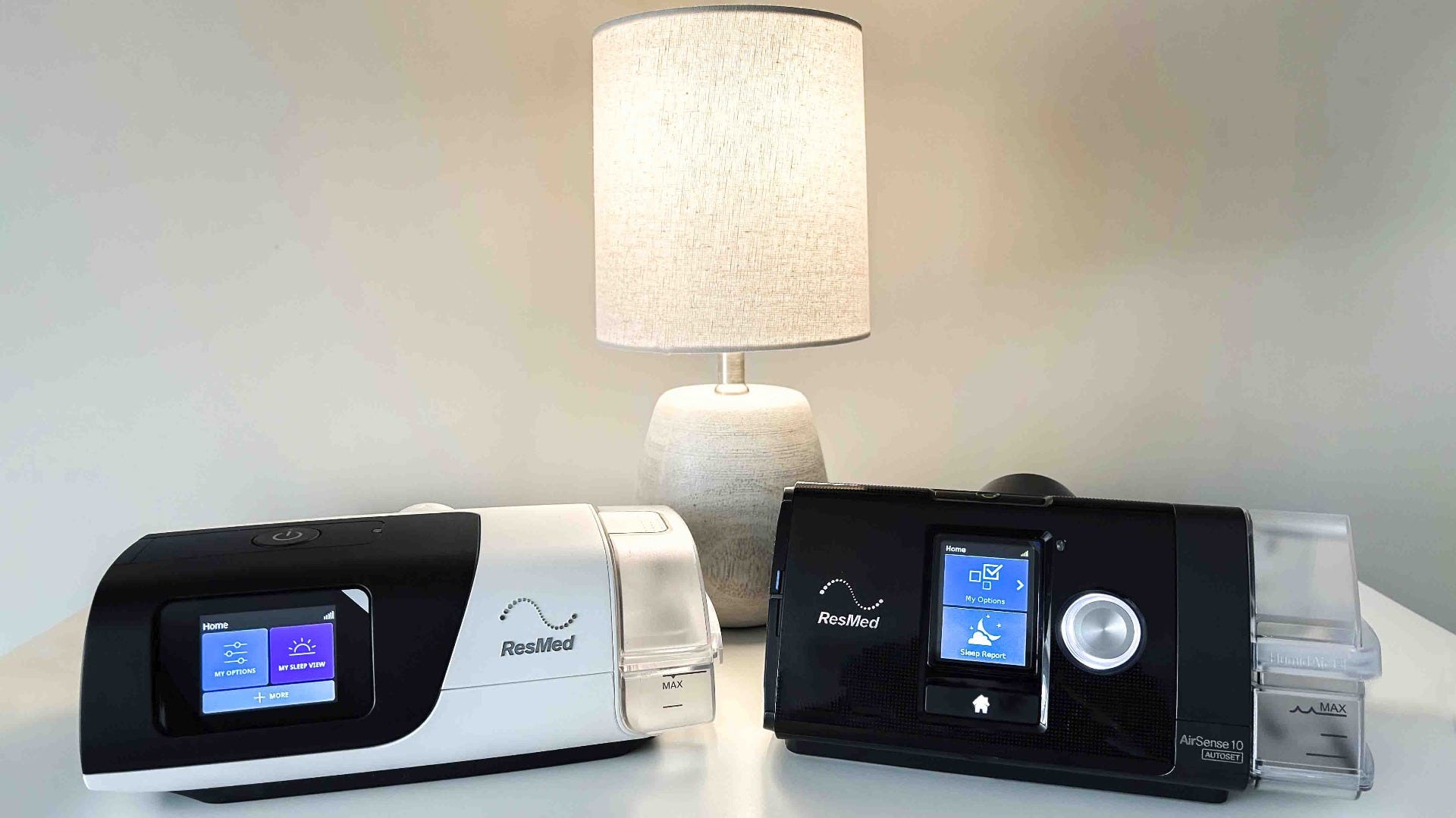 The release of AirSense 11 brings with it several upgrades from the previous model, both in terms of the physical design as well as software features. Here's an overview of the key improvements:
AirSense 11 Physical Changes:
Design: Visibly, the AirSense 11 has a refreshed look with smoother lines for a more modern feel that will fit right in on your bedside table. While slightly longer than the AirSense 10, it's also narrower, shorter, and a bit lighter, making it easier than ever to travel with.
Power: The AirSense 11 uses a 65-watt power supply, down from the 90-watt power supply in the AirSense 10. It's capable of running at the same max settings on less power, making it more energy efficient.
Controls: The knob on the front of the AirSense 10 that also served as a button to click and navigate menus is no more. In its place, the AirSense 11 has a full-color touchscreen with a simplified menu and a single button at the top of the machine to turn it on and off. In addition, the screen automatically adjusts brightness, making it easy to read during the day and unobtrusive at night while you're sleeping.
Humidifier: While the capacity of the humidifier tank is unchanged, the shape is slightly different. This means you won't be able to re-use an old tank if you're upgrading from the AirSense 10.
Filter: The placement of the filter vent has moved from the side to the back, which should enable better air intake and performance.
Tubing: Also worth noting, the tubing system now outputs directly from the back of the machine without the elbow/swivel used in the AirSense 10. This might make it more difficult to remove and store (depending on your setup), but it should be easier to clean.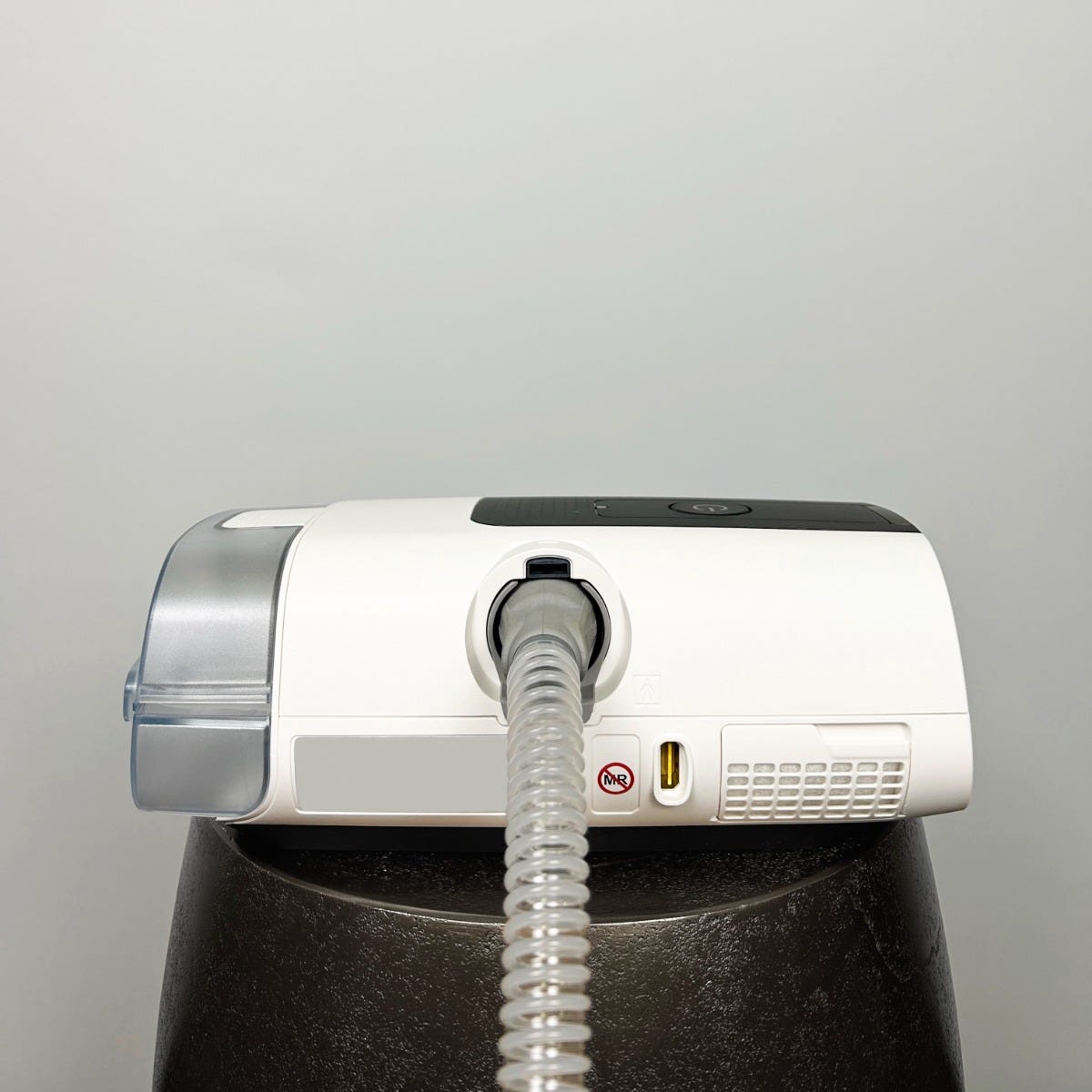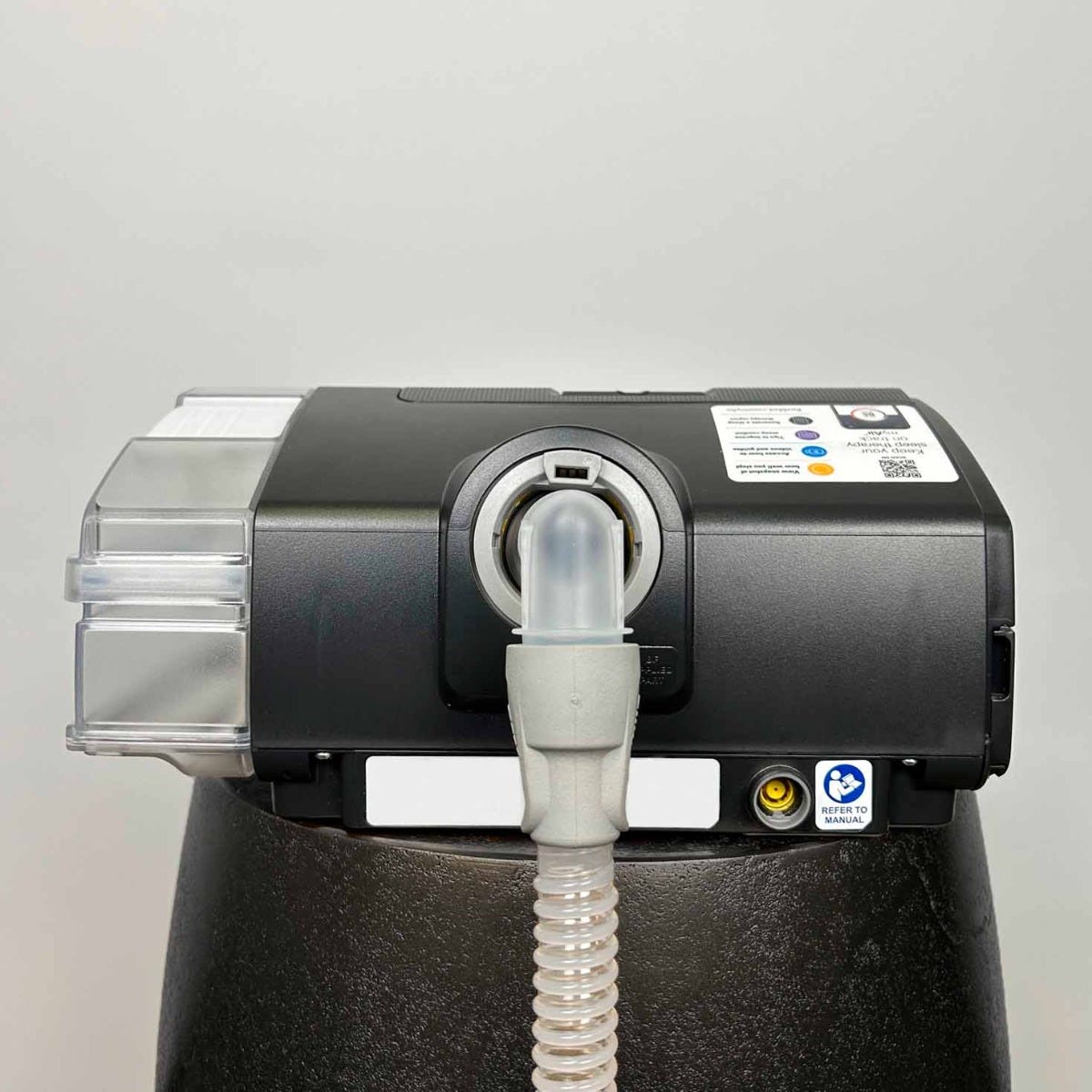 AirSense 11 Software Improvements:
Test Drive: If you're new to CPAP therapy, the Test Drive feature will help you acclimate to using your machine by starting at a low pressure level and gradually increasing to your optimal level while measuring any air leakage from your mask.
Personal Therapy Assistant: Available through ResMed's myAir app for iOS and Android, the Personal Therapy Assistant provides video and written support as you set up your equipment and adjust to your daily therapy routine.
Care Check-In: Also part of the app, Care Check-In provides coaching and feedback for new users throughout the first month to encourage compliance and improved therapy.
Software Updates: New over-the-air upgrades will allow future software improvements and bug fixes to be installed without face-to-face technician time. This, in conjunction with the remote function check and remote settings access within the myAir app, makes it easier than ever to ensure optimal therapy and receive the support you need.
AutoSet for Her: Women typically require different levels of airflow during CPAP therapy than men due to physiological variances. While previously a separate "For Her" machine was required, the AirSense 11 integrates a female-specific algorithm, the only one of its kind, to provide a dedicated therapy mode for both women and men all in one device.
ResMed AirSense 11 vs. ResMed AirSense 10
If you're thinking about upgrading from the AirSense 10 or you're new to CPAP therapy and buying your first machine, which one should you choose? To help highlight the differences, we compared both models side-by-side.
| Feature | AirSense 11 | AirSense 10 |
| --- | --- | --- |
| Dimensions (H x W x D) | 3.72" x 10.21" x 5.45" | 4.57" x 10.04" x 5.91" |
| Weight (Machine Only) | 2.49 lbs | 2.75 lbs |
| Power Adaptor | 65W | 95W |
| Max Operating Altitude | 9,870' | 8,500' |
| Storage Temperature Range | -13℉ to +158℉ | -4℉ to + 140℉ |
| Humidifier | Yes | Yes |
| Heated Humidifier | Yes | Yes |
| Heated Tubing | Yes | Yes |
| Battery Backup Options | Yes | Yes |
| Therapy Tracking | Yes | Yes |
| AutoSet for Her | Built-In | Separate Device |
| Test Drive | Yes | No |
| Personal Therapy Assistant | Yes | No |
| Care Check-In | Yes | No |
| Bluetooth | Yes | No |
| Wireless Software Updates | Yes | No |
While both machines offer very similar functionality, it's worth noting that ResMed modified the AirSense 10 as a result of the ongoing chip shortage and 2021's Philips Respironics recall.
Customers who purchase a new ResMed AirSense 10 machine will receive the "Card-to-Cloud" version, which delivers the same great therapy but without cellular connectivity. This means that therapy data must be uploaded to the cloud manually via an SD card in the device. The myAir app is also incompatible with card-to-cloud devices. To learn more, read ResMed's overview.
AirSense 11 Frequently Asked Questions
To ensure you have all the information you need, we've compiled answers to some of the most common questions from customers about the ResMed AirSense 11.
1. When Did the ResMed AirSense 11 Come Out?
The AirSense 11 was released on August 16, 2021, making it the first major release in the AirSense line since the AirSense 10 came out in mid-2014.
2. Can the ResMed AirSense 11 Be Used Without a Humidifier?
Yes, the AirSense 11 can be used without a humidifier or water. First, empty your water tank and install either the empty tank or optional side cover. Next, navigate in your settings to "My Options" then "Climate Control" and set it to "Manual." An option for "Humidity Level" should now be visible under the "My Options" menu, and you can set that to "Off" to disable the humidifier.
3. Does AirSense 11 Have SmartStart?
Yes. SmartStart activates the device automatically when you put your mask on and begins delivering therapy.
4. Does the ResMed AirSense 11 Have WiFi?
Yes. WiFi and Bluetooth are both built-in on the AirSense 11, enabling seamless over-the-air software updates and data sharing with the AirView service.
5. Does the ResMed AirSense 11 Have a Battery?
There is no built-in battery in the AirSense 11. In terms of external batteries, the device has an AC power input.
6. Does the ResMed AirSense 11 Have an SD Card?
Yes, the AirSense 11 does feature an SD card slot to help track your sleep data locally. This data is also automatically transferred to the myAir app via WiFi.
7. Where is the Best Place to Buy AirSense 11?
You can order the AirSense 11 right here at CPAP Supply USA! We have nearly 20 years of industry experience and offer 100% price protection if you find a better price within the next week.
Choosing the Right Machine for Your Needs
Ultimately, deciding between the AirSense 11 and AirSense 10 will come down to your preference of style and feature set. In our clinical opinion, ResMed has always had quality, durable, and effective devices. For everyday practice, both provide optimal therapy, have excellent platforms, and are easy to use. However, if you're purchasing a CPAP machine for the first time, we recommend the AirSense 11 for updated features as well as wireless connectivity. If you have any questions about either device or any accessories, our customer service team will be happy to answer them.
Sources